Welcome to Kelly's Bakery
Kelly's Bakery marries the bounty of the Hudson Valley with classic artisanal bread making practices. Nestled along the Hudson River in Poughkeepsie, NY, Kelly's is a bakery and café that utilizes fresh, local, and seasonal ingredients. Adding local flair to your bread basket, you'll fall in love with Kelly's fresh baked, slow fermented breads, croissants, scones, babka and more. Stop into the café to relax and enjoy locally roasted coffee, local teas and other specialty drinks so you take in all the Hudson River Valley has to offer.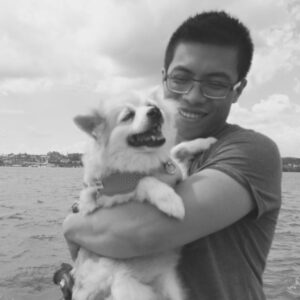 Meet Kevin
Kevin Halim is the owner and baker of Kelly's Bakery, which is named after his beloved dog Kelly. Kevin has worked at some highly celebrated dining establishments all over the country, most notably COI restaurant in California, Blue Hill at Stone Barn in New York, and Tasting Counter in Massachusetts. 
Kevin graduated from Le Cordon Bleu with his Culinary Arts back in 2010 and from the Culinary Institute of America in 2015 for his Baking and Pastry Arts Management.
What People Are Saying
Kelly's quickly became a favorite in my house and at the office. I love the rustic feel and taste of their breads with a contemporary flavor combo. I use Kelly's scones and babka as a thank you for my staff and everyone always raves about it.
If you have been searching for the perfect scone, come to Kelly's Bakery. I have been trying ones from different places and have been disappointed. I am now fully committed to Kelly's Cranberry-Walnut scones – PERFECT! Or for a savory option, try the corn-jalapeño scones. Kelly's is also our go-to place for sourdough bread – we LOVE the moist and savory onion-olive, and the potato rosemary. Kelly's is a great neighborhood bakery, the owner is responsive, friendly and flexible. Try any of the options – I'm sure you will be coming back for more.
I am a bread lover and as such am always looking for that perfect bread. I have finally found it at Kelly's Bakery. I love my bread chewy and crusty. My first loaf from Kelly's (and still my favorite) was a peasant style olive bread. Crusty, chewy, and the saltiness of the olives was perfect. I slathered piece after piece with cultured butter until half of the loaf was gone. We were in heaven with this bread. While this was my favorite, I also loved a potato sourdough loaf and the chocolate-bourbon cherry sourdough. We ate it like dessert, but it would be great with a smear of cream cheese for breakfast. I was never a big fan of scones until I tasted the corn-jalapeno scones. Not dry at all and just a slight bit of heat. Scrumptious. We have shared our love of all things Kelly's Bakery with friends and neighbors and we all agree that they are the best!
Kelly's Bakery is hands down the best bakery around. Our favorite go to is the sourdough potato rosemary bread and cheddar kale and black pepper scones. The detail and quality of their artisanal goods is like no other! We always look forward to our trip to Poughkeepsie to pick up our baked goods.